LeichtBric
LeichtBric-
Autoclaved Aerated Concrete
LeichtBric is an Autoclaved Aerated Concrete (AAC) offering many benefits such as:

DURABILITY
Durability and its environmental impact is an important factor when considering the use of a building material. Autoclaved Aerated Concrete is proven to be a very durable material. LeichtBric AAC will not rot,warp,rust,corrode,or otherwise decompose. LeichtBric AAC provides a very low maintenance , cost and time, saving solution for your building consideration.

HIGH THERMAL INSULATION


LeichtBric AAC has exceptional thermal insulating qualities. Buildings constructed with LeichtBric AAC tend to be cooler in summer and at the same time you can enjoy energy and cost savings on electricity.

FIRE AND MOLD RESISTANCE


LeichtBric AAC is an inorganic material that does not burn. The melting point of Autoclaved Aerated Concrete is over 1000ºC, more than twice the typical temperature in a building fire of 450ºC. LeichtBric AAC is also mold resistance. The typical nutrient source for mold is moisture LeichtBric AAC is a breathable, concrete product made with clean, inorganic, materials and it does not offer the nutrients for mold growth.

ACOUSTIC INSULATION


A commonly overlooked environmental problem is noise pollution. The solid wall construction of a building made of LeichtBric AAC provides exceptional acoustic insulation. Its porous structure and high surface mass, coupled with its ability to dampen mechanical vibration energy, greatly reduces outside environmental noise pollution and the indoor echo effect in empty room thus providing a quieter and more comfortable interior for the occupants.

PEST RESISTANCE
LeichtBric AAC is an inorganic, insect resistance, solid wall and construction material. It is impossible for insects and rodents to inhabit in them.

IMPROVED INDOOR AIR QUALITY
LeichtBric AAC is an inorganic material that contains no toxic substance and does not decompose or release gas. Since Autoclaved Aerated Concrete is a structural and insulation material, it allows the elimination of other materials that may contribute to poor indoor air quality.

WORKABILITY
LeichtBric AAC blocks are quickly and accurately cut with a band saw to the desired dimensions, and into accurate angles and other shapes. LeichtBric AAC can also be drilled,nailed, grooved,routed, shaped, sculpted, carved, coated, floated, screwed into and milled with common tools and finish with paints, tile, drywall, or veneer. Window trim , chases for plumbing, wiring and outlets and decorative features like keystones, window sills and column can easily be created on the job site.

SIMPLIFIED CONSTRUCTION
LeichtBric AAC simplifies construction by minimizing the number of different building products involved. Building owners may see a significant reduction of maintenance and energy costs as well as an increase in overall comfort and safety.
The advantages of LeichtBric AAC compared with other AAC products
: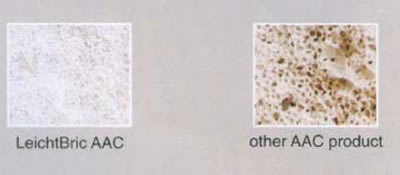 LeichtBric AAC has homogeneous and softer pores meaning LeichtBric AAC has more strength stability towards pressure.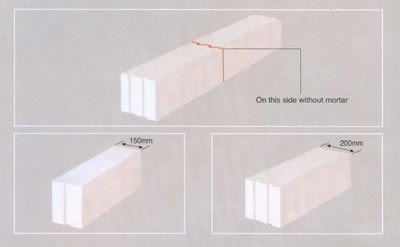 LeichtBric AAC Interlocking block type. Interlocking block is a new generations of AAC type. Interlocking block reduces the quantity of mortar used, increased the speed and installation on site.
In comparison with competitors products LeichtBric AAC has a relatively lighter weight meaning LeichtBric AAC is more economical for structural cost especially for high rise building.
The highest level of fire safety: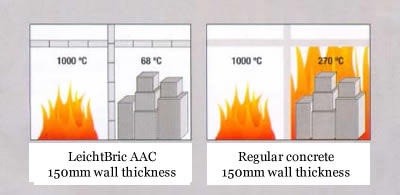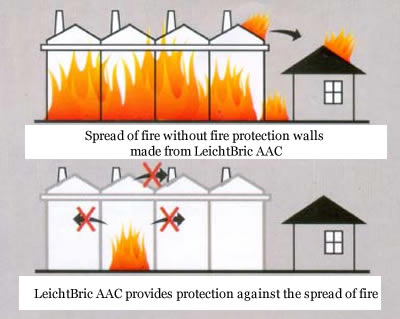 SPECIFICATION:
MAJOR BENEFITS:
AAC

Brick

Installation Rate

l AAC Block
20-22m/worker/day
6 Bricks
10m/worker/day
Thinner coating or AAC
blockwall means faster
application time
3-5mm skin coat internally
(50-75m/worker/day)
25mm plaster
(20m/worker/day)

(Installation rates)

12mm render externally
(40m/worker/day)
25mm plaster
(20mm/worker/day)
| | |
| --- | --- |
| Property | Value |
| Length | 600mm |
| Height | 200-600mm |
| Thickness | 50-300mm |
| Nominal Destiny | Approx 550kg |
| Dry Density | 480-500kg/m |
| Compressive Strength | 2.5-2.8N/mm |
Compressive Strength at 2.8N/mm, 5.0N/mm and 6.5N/mm
available on request
DIMENSION
1. Regular Block
LeichtBric Standard Complied to: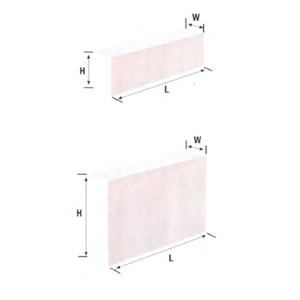 BSEN
BS 476 part 22 Fire Resistance Test to 260 minutes
BS EN 772-1 Compressive Strength
BS EN 680 Drying
BS 6073



Australian Standard
AS 1530.4 Fire Resistance Test to 260 minutes
AS 4456.3 Cumulative and Individual Dimensions
AS 4456.8 Moisture Content and Dry Density
AS 4456.10 Resistance to Salk Attack
AS 4456.12 Coeffecient of Contration
AS 4456.14 Water Absorption Properties
AS 4456.15 Lateral Modules of Rupture
AS 4456.18 Tensile Strength of Masonry Units
As 3700 Appendix C Compressive Strength
As 3700 Appendix D Bond/Flexural/Strength
Length,L




(mm)

Height, H




(mm)

Width,W




(mm)

600

200

50

600

200

75

600

200

100

600

200

125

600

200

150

600

200

175

600

200

200

600

200

250

600

200

300

600

400

50

600

400

75

600

400

100

600

400

125

600

400

150

600

400

175

600

400

200

600

400

250

600

400

300

600

600

50

600

600

75

600

600

100

600

600

125

600

600

150

600

600

175

600

600

200

600

600

250

600

600

300
2. Interlocking Block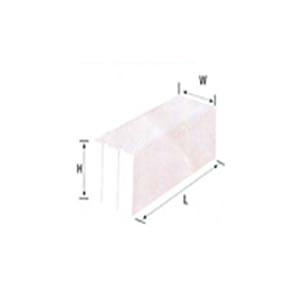 Length,L
(mm)
Height,H
(mm)
Width,W
(mm)

600

200

150

600

200

200